Septic Design & Installation, Excavating, Grading
Roger Gostlin & Son Sand & Gravel
Residential - Industrial - Commercial - Farms - Cottages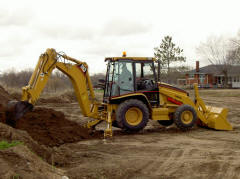 Roger Gostlin & Son Sand & Gravel is a family business located in Norland, Ontario. We are dedicated to high-quality service in the excavation industry. Our proven track-record of customer satisfaction over the last 32 years gives testimony of our dedication to excellence in all we do.
We make an effort to be innovative in our methods and equipment bringing total satisfaction to you! The customer is #1 with us!
Our Services include
Septic system design and installation.
Sand and gravel delivery in tri axle and single axel trucks.
Excavating, bulldozing and backhoeing
Cottage road building and maintenance
Lot clearing and landscaping
Building demolitions
Roger Gostlin & Son are fully insured.
For Grading, Excavating, Septic Repair and Installation, Foundation Excavations and more, you owe it to yourself to give us a call!